note: this article applies to Solar+SPAN installations without a Battery Backup system. If you will be installing Solar with a battery backup system, please refer to this article: Adding Battery Backup to your SPAN Panel
Planning on adding solar to your SPAN panel? Here's what you need to know.
SPAN may be paired with any grid-tied solar inverter.
SPAN measures solar production directly - no communication wiring is required between SPAN and the solar system.
The circuit breaker feeding the solar inverter must be installed in your SPAN Panel to enable monitoring in the SPAN Home App.
Preparation
Provide this one-page Solar Addition guide to your solar installer before installation day so they know what to expect. If they have any questions, they can reach Span Support at support@span.io.
In order to enable solar monitoring in the SPAN Home App, your solar system must be fed from a breaker in one of the bottom slots in your SPAN panel. Depending on the current configuration of your panel, your solar installer may need to relocate breakers or combine multiple circuits onto tandem breakers to make space.
Your solar installer will need to be aware of two critical specifications:
Maximum branch breaker size - 90A
Busbar rating - 225A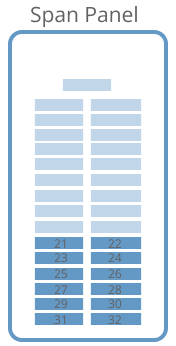 Installation Day
Ask your solar installer to record the following details, found in the guide linked above.